We now offer our patented
wide-base pacifier clips
in 6 colors: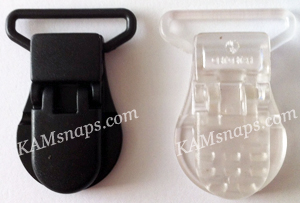 These patented, lightweight yet sturdy plastic clips can be used to make ribbon pacifier holders. They have passed certification testing for lead and other harmful substances. These clips have a locking mechanism which makes it difficult for children to remove. See below for photo instructions.
These clips are very similar to our original pacifier clips, but have 2 primary differences. 1) The base is wider. 2) The ring through which the ribbon loops is more secure and less likely to be dislodged by prying hands. Full comparison pictures shown below.
NOTE: While these clips do comply with regulations regarding harmful substances, please remember that they are comprised of parts small enough to pose a choking hazard and should always be used under adult supervision.