We've added a couple of color combinations to our collection of mixed color sets. Available at
http://www.kamsnaps.com/Mixed-Color-Sets-p17.html
.
Mixed Color packs are a mix of any one color combination listed below. Please note that each component of the complete set will be randomly mixed so you will not receive the same proportion of specific colors. In other words, you may not receive matching studs or sockets for each color cap.


Colors within a mix may change periodically so please review the mixes below each time you purchase. Mixes are available only for a limited time. Sorry, no substitutions.
Available in size 20 glossy only.

Rainbow


Starburst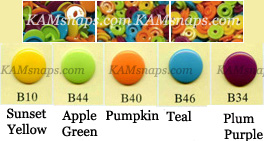 Frogs & Snails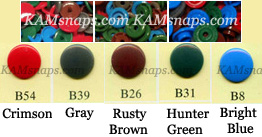 Sugar & Spice


Autumn


Spring