Tell a friend about KAMsnaps.com and you'll earn DOUBLE their Reward Points when they place their first order!
Earn points on all of your purchases
Each dollar spent at KAMsnaps.com earns 1 point. Those points can in turn be used to pay for your next order. 1 point is worth $0.05 towards your next purchase. That means 20 points = $1, 100 points = $5, and so on -- that's equivalent to a 5% rebate on every purchase*.
Refer your friends and earn DOUBLE their points to apply towards your next purchase
Beginning Oct 10, 2011, you can earn extra points through our Refer-a-Friend program. Simply log into your account and click on the "Refer Friends" link in the My Account box. Enter your friends' email addresses and we will send them each a special link through which to order from.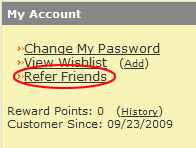 When your friends set up a new account through the special link, not only will they earn points on their own orders, but you'll earn DOUBLE their points as well! There is no limit on how many friends you can refer and how many referral points you can accumulate. You'll be able to use your points directly at checkout to pay for your next purchase.
For example, if your friend places an initial order of $50, your friend will earn 50 points and you will earn 100 points for referring your friend. Since 1 point is worth $0.05, that means your friend will have $2.50 to apply towards her next order and you'll have $5 to apply!
Rules and limitations do apply. Visit our
Refer-a-Friend Special
page for full details.